Premier Salesforce Consultant Staffing Solutions with Cleo Consulting
Are you in need of highly skilled Salesforce Consultants to join your team? Look no further than Cleo Consulting! We specialize in providing top-tier staffing solutions for IT professionals, and we have a vast network of talented Salesforce Consultants who are ready to take on new challenges.
Customized IT Staffing Solutions for Salesforce Consultants
At Cleo Consulting, we understand that every company has unique needs, and we take a personalized approach to staffing solutions. Our team of experienced recruiters works closely with you to understand your requirements and identify highly skilled Salesforce Consultants who possess the right experience and knowledge to succeed in your organization.
Extensive Network of Top-Tier Salesforce Consultants
Our vast network of highly skilled Salesforce Consultants ensures that we can identify top talent quickly and efficiently. We have deep knowledge of the market's demands and keep a close eye on emerging trends in the industry, allowing us to provide customized staffing solutions that align with your organization's goals.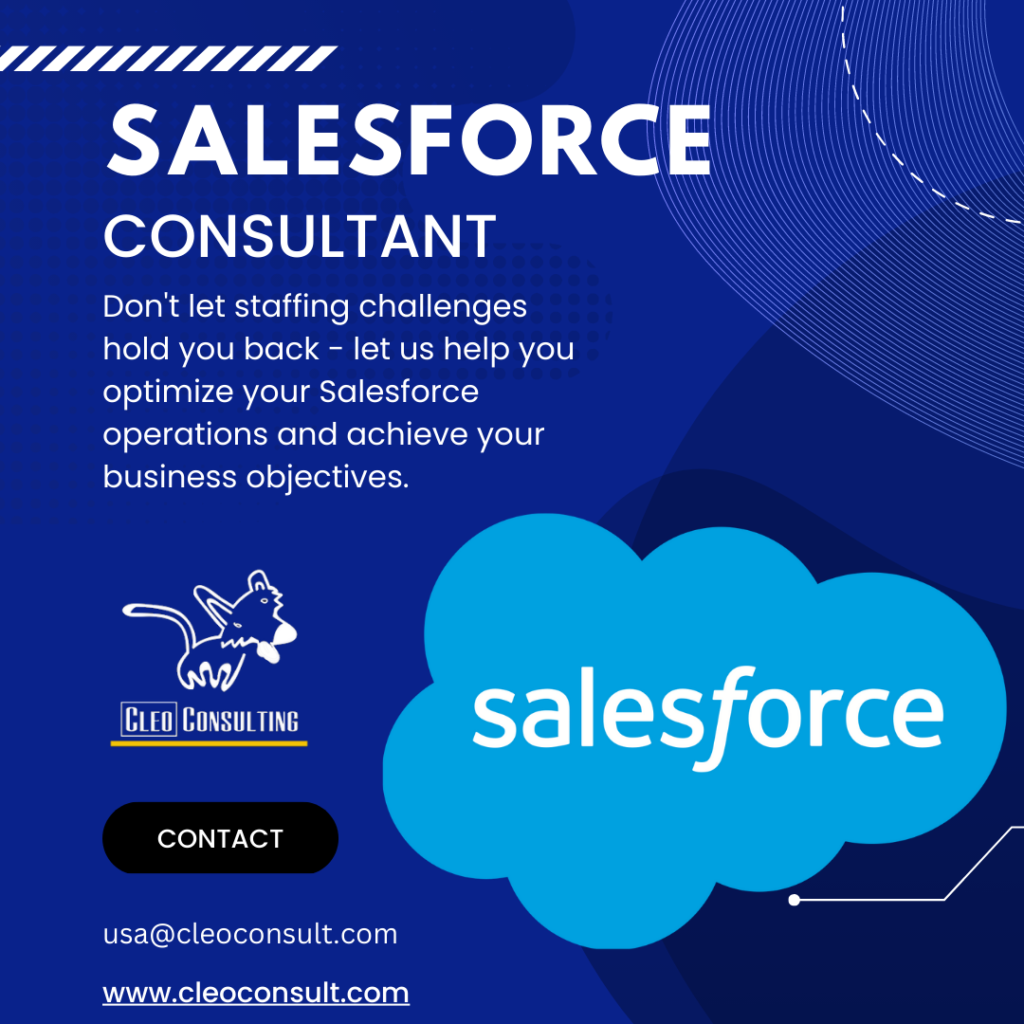 Personalized Job Matching with Cleo Consulting's Experienced Recruiters
Our experienced recruiters have a deep understanding of the skills and experience required for success in the IT industry. They work tirelessly to match candidates with job opportunities that align with their career goals and your organization's needs. We take the time to understand your organization's unique culture and requirements to ensure that we find the perfect match for your team.
Partnering with Cleo Consulting gives you access to top-tier talent in the industry, ensuring that your organization has the expertise it needs to succeed with Salesforce. Whether you need a permanent Salesforce Consultant or a short-term contractor, we can help you find the right candidate for your organization. So, contact us today to learn more about our customized IT staffing solutions and find the right Salesforce Consultant for your team!